Pheasants Hill is a pleasant, small site suitable for back to basics camping and activities.  It currently provides very simple facilities including two flushing toilets with sinks, a covered area & water tap in the middle of the field and a small copse at one end of the site.
Parking is limited to two cleared areas of woodland across the single lane country road, no parking on-site allowed. Coaches should be limited to mini-bus (17 seater) size as vehicles any larger will struggle with the narrow, twisty lanes.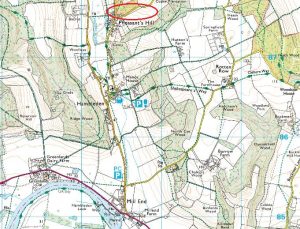 Surrounded by footpaths, woodlands and open fields the village of Hambleden is within one mile & the River Thames is within two miles.  The Longridge Activity Centre in Marlow is six miles East along the Thames and the regattas and town of Henley-On-Thames is six miles west along the Thames.
It is ideally located for bigger attractions with
Marlow District 'Pheasants Hill' Campsite
Pheasants Hill, Hambleden
Buckinghamshire
RG9 6NQ
Location: SU 78624 87576 or Google maps here
The site is open all year, please contact us for details.
Site visits are recommended, please contact the warden prior to your arrival.